Together in support of sisters Corina and Catalina.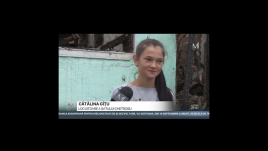 60,220 MDL
Of the 300,000 required
You can make donations from any card in any currency, just specify: in euros, dollars or the equivalent in lei.
Thank You for Your donation!
Expediază un SMS cu conținutul 960 la:
2910 (abonatii Unite), 1 SMS - 45 MDL
2910 (abonatii Moldcell), 1 SMS - 45 MDL
PayPal payment system allows you quickly, conveniently and securely to make donations on our website - paypal@caritate.md
Thank you for your donation!
Bank Transfer 

 for MDL (lei Moldavian)

 




Beneficiar: Fundaţia "Caritate.MD"
Adresa: bd. Moscovei 17/4, mun.Chisinau, Republica Moldova, MD-2068
C/f: 1010620001522
IBAN MDL: MD47MO2224ASV35534787100
Banca:Name/Nume: Mobiasbanca - OTP Group S.A.,

Codul bancii: MOBBMD22
Adresa băncii: bd. Ştefan cel Mare şi Sfânt 81A, mun. Chişinău, MD-2012
DESTINATIA PLATII: pentru pacientul (numele, familia)




Bank Transfer 

 for  EUR (euro)

 




Beneficiar: Fundatia "Caritate.MD"
Address: bd. Moscovei 17/4, mun.Chisinau, Republica Moldova, MD-2068
IBAN EURO: MD06MO2224ASV05215347100
Cod IDNO: 1010620001522
Beneficiary's Bank Name: Name/Nume: Mobiasbanca - OTP Group S.A.,

Beneficiary's Bank Address: Moldova, Chisinau, MD-2012, str. Stefan cel Mare, 81A
Beneficiary's Bank BIC: MOBBMD22XXX
Correspondent Bank Name: Commerzbank, Frankfurt am Main, Germany
Correspondent Bank BIC: COBADEFFXXX
Remitance information : for patient (name)




Bank Transfer 

 for  USD (dolari sua) 


Beneficiar: Fundatia "Caritate.MD" Address: bd. Moscovei 17/4, mun.Chisinau, Republica Moldova, MD-2068
IBAN USD: MD02MO2224ASV05215427100
Cod IDNO: 1010620001522
Beneficiary's Bank Name: Mobiasbanca - OTP Group S.A.
Beneficiary's Bank Address: Moldova, Chisinau, MD-2012, str. Stefan cel Mare, 81A
Beneficiary's Bank BIC: MOBBMD22XXX
Correspondent Bank Name: The Bank of New York Mellon, New York, USA
Correspondent Bank BIC:IRVTUS3NXXX
Remitance information : for patient …
Bank Transfer for RON (lei româneşti)

Beneficiar: Fundaţia "Caritate.MD"
Adresa: bd. Moscovei 17/4, mun.Chisinau, Republica Moldova, MD-2068
IBAN RON: MD20MO2224ASV20663287100
Cod IDNO: 1010620001522
Beneficiary's Bank Name: B.C. "MOBIASBANCA - Groupe Societe Generale" S.A.
Beneficiary's Bank Address: Moldova, Chisinau, MD-2012, str. Stefan cel Mare, 81A
Beneficiary's Bank BIC: MOBBMD22XXX
Correspondent Bank Name: "BRD - Groupe Societe Generale" S.A.
Correspondent Bank BIC: BRDEROBUXXX
Correspondent Bank Adderess: Bucureşti, România
DESTINATIA PLATII: pentru pacient (numele, familia)