News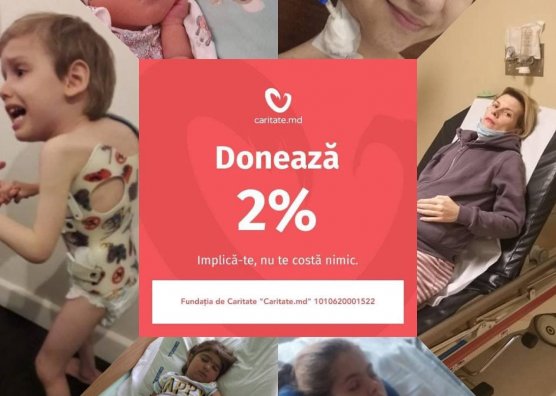 25 Feb
Redirect 2% of income tax by April 30, 2022
Our signature does not cost us anything, but it can save someone's life... Dear friends, by April 30, 2022, you can redirect 2% of income tax to the Caritate.md fund in order to save someone's life. The 2% income tax law allows us to do make good deeds that cost us nothing, allows us to take part and empower those who are waiting for our help and who are helpless in their struggle for life. Those who have gone through various difficulties know what it means when life has a PRICE, those who have seen their loved ones in a helpless state know what a helping hand means, those whom we have been able to help have felt what these little gestures of kindness mean - they turn into LIFE. Dear friends, a signature that doesn't cost us anything, can save someone's life, change someone's destiny, a signature that costs us nothing, can bring so much hope, so much strength to those who are in need. The past years showed that together we are a big and beautiful family and share the same thoughts and values. And since the suffering of people in need is a burden for us all, because we are inherent in our kindness, because we always help each other, today we offer you to choose LIFE through this redirected 2% of income tax.
A simple signature changes destinies!
- Fill in only the field M2 (the tax code of the Charity Fund "Caritate.md"

1010620001522

is indicated, the field M1 should not be filled);
- The application can be submitted personally to any territorial branch of the country, or it can be sent by mail, where the address of the tax territorial branch of your choice must be indicated on the envelope;
- An application can also be submitted online at

servicii.fisc.md

with an electronic or mobile signature.
The application may be submitted by April 30, 2022.
Thank you for caring. If you need any assistance, write to us at info@caritate.md and together, we will find a solution.