News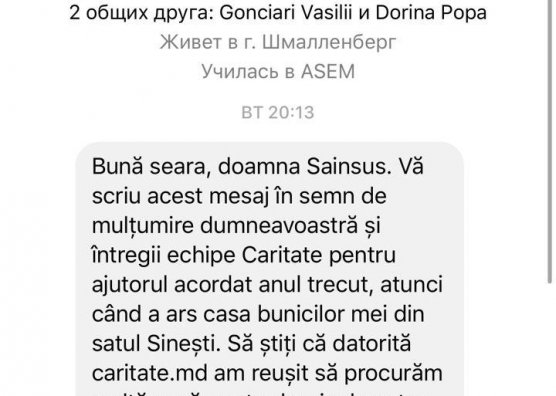 12 Oct
Two saved destinies: grandpa Petru and Alexandra Pih
When each of you, together with us, believes that we are able to move mountains, then wonderful things happen. Today we start the week with two wonderful news: one from a little girl, to whose grandmother, we brought warmth and tears of happiness - https://www.caritate.md/donations/din-inima-pentru-alexandra-pih and other news - from grandpa Petru, who became homeless when the fire burned down his house, and in fact, the work of his whole life - https://www.caritate.md/en/donations/from-the-heart-to-petru-mocanu
Dear friends, Alexandra thanks you from the bottom of her heart for the simple fact that due to this wheelchair, which her whole family dreamed of, she will be able to leave the house, and grandpa Petru and all his family thank you from the bottom of their hearts for that simple fact that they now have a place to live. Thank you guardian angels for understanding and caring for the suffering of others. Our gestures of kindness and humanity become moments of happiness and joy for these restless souls with whom fate has been so unfair.
We wish you a good and calm week to continue doing good deeds!