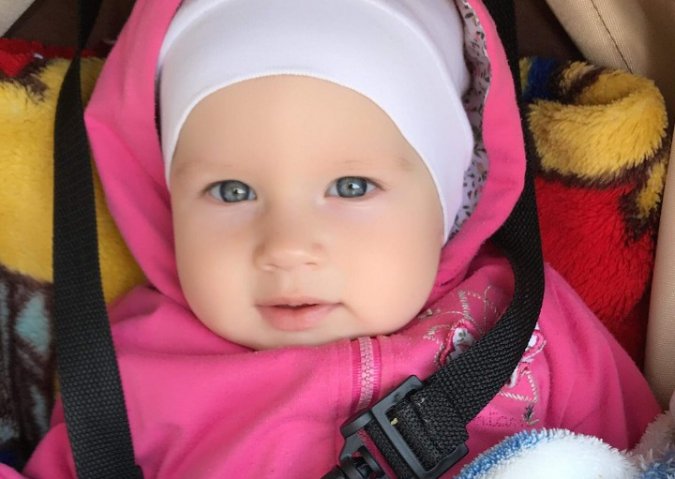 From the heart to Adelina Mitronici
From the heart to Adelina Mitronici
Surname: Mitronici
Name: Adelina
Age: 1 year old
Diagnosis: Wilms tumor
Required amount: 124000
Treatment: Turkey
A message from mother:
Hello, I am Adeline's mother, who is a year and eight months old. In March, our girl was diagnosed with Wilms tumor, a massive nephroblastoma of the right kidney. The tumor is so large (15 cm) that it affects all internal organs. Unfortunately, the situation is very serious, after two courses of chemotherapy, we have no results, on the contrary, Adeline is much weaker, she has a high fever, the situation is getting worse every day. Our only chance is the treatment and surgery abroad, which requires financial resources, which we do not have. We cannot describe how we feel, we are desperate and cannot imagine life without our baby. I ask you from the bottom of my heart to help us, the life of my little girl is in great danger, and every day her situation is getting worse.
I ask all people of good will to help us save Adeline from this terrible disease.
Thank you so much and God bless you!
UPDATE, 7 May 2019
:
Dragii nostri, dupa trei zile de reanimare unde fetita noastra a fost doar cu medici, vrem sa va anuntam ca tumoarea a fost scoasa... operatia a fost de succes si ieri seara dupa aceste trei zile de asteptare, fetita noastra este in palata cu noi.Au fost trei zile unde nu am inchis nici un ochi, am stat pur si simplu langa fereastra si doar mai aveam putere sa ma rog. Trei zile pline de frica unde asteptam cu rasuflare sa ne spuna medicii cum se simte. Multumesc Domnului, multumesc medicilor, tuturor oamenilor, Adelina, acum este cu noi si incepem o noua lupta. Avem de trecut un curs intreg de reabilitare, de tratament in care pur si simplu visam sa ne vedem fetita sanatoasa. Doamne daca ati sti cata durere, cata frica si cata disperare poate aduce acest cancer, nu as putea reda niciodata ce a fost si ce inca se intampla in sufeltul meu de mama care inca mai traiesc cu frica pentru viata fetitei mele... E atat de greu sa fii neputincios, e foarte dureros... Insa din tot acest cosmar am simtit un lucru, ati fost cei care ne-ati molipsit cu putere, cu speranta si cu Credinta. Am simtit pe propria piele ce inseamna puterea si bunatatea omeneasca , ea pur si simplu iti da forte si face minuni cu noi, cei care ne aflam in pragul disperarii. Ingerii nostri, viata Adelinei inca mai costa... si va rog din suflet sa ne fiti alaturi pana la urma. Fara voi, salvatorii nostri suntem nimeni .