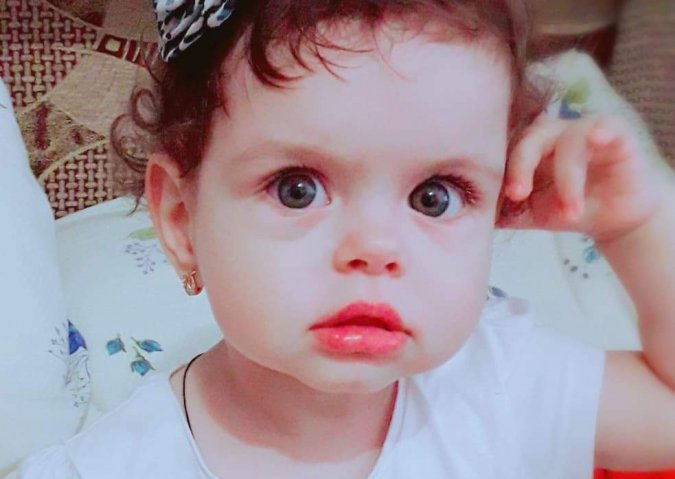 From the heart to Gabriela Cotoman
From the heart to Gabriela Cotoman
Surname: Cotoman
• Last Name: Gabriela
• Age: one year and four months
• Diagnosis: malignant tumor, left adrenal neuroblastoma
• Amount required for examinations and treatment: 90,000 euros (9,800 for examinations)
• Treatment: Turkey
A message from mother:
Good afternoon, Gabriela is my little daughter who was diagnosed with neuroblastoma at such an early age. We are very happy that God gave us such a wonderful girl who brings us happiness every day and we enjoy her smiles, so pure and sweet. Unfortunately, besides happiness, life has given us an unpleasant surprise, which we cannot cope with. Gaby requires treatment abroad, but the costs are too high for us ... This is why we are asking the assistance of people of goodwill, because we hope and believe that we can save our little girl. She is very small, but has already passed through a lot of pain... my heart aches and I am very afraid of losing my little daughter. She is our life, she is our sun ... The word "cancer" is an awful one and we cannot even describe what is happening in our hearts ... I would really like her to share her suffering with me, because she does not deserve this pain at her early age. People of goodwill, I am a young mother, but I am powerless before the disease and our family simply cannot afford to pay for the necessary treatment. Please help us, because my daughter's life now depends on your donations. We thank all those who supported us.
UPDATE, 20 March 2019
:
Scumpa Gabriela va saluta si va roaga sa nu o lasam. E grea lupta ei sa stiti ca la un anisor sa suporti chinurile zilnice e foarte si foarte greu... insa ea rezista si medicii sunt atat de optimisti pentru ca puiul asta mic, dulce si scump este foarte puternic. Va rugam din suflet sa fim alaturi cu ea pana la ultimul pas in lupta ei, sa fim puterea ei de a invinge.... costul tratamentul este peste puterile parintilor. Priviti minunea din video si doar pe o secunda sa ne imaginam ce e in sufletul acestor parinti cand stiu ca viata fiicei lor sta in mainile unei sume imposibile, ne e frica sa ne gandim ce suporta ei zilnic... Dragii nostri, Gabita lupta insa ea va putea invinge doar cu ajutorul nostru. Va rugam sa nu treceti cu vederea si chiar va imploram sa salvam un pui de doar un anisor. E micuta, ea trebuie sa traiasca, noi atat de mult credem in puterile ei dar avem nevoie de sustinerea Dvs pentru ca acum, puterea ei sunt doar oamenii.
Multumim din suflet pentru bunatate!