News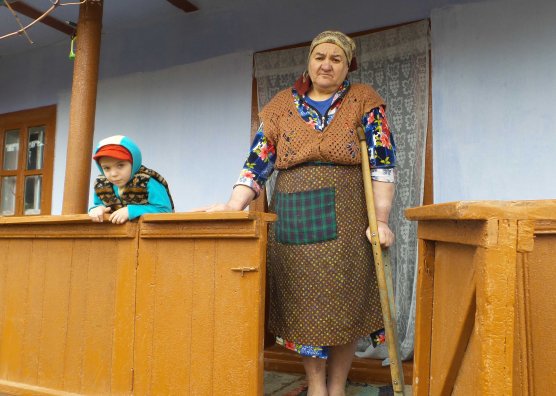 23 Mar
First Assistance for Vasilitsa Bivol
Vasilitsa Bivol from Costesti village, Ialoveni district is 63 years old. She is disabled since childhood and moves with difficulty only using crutches, because her legs are of different lengths. She does not have any financial means for treatment.
DoamnaVasilitsa recieves a very small pension while raising, for the last four years, her six-year old granddaughter Vladutsa. Vlada's mother left her child in the care of grandmother, while her father is in prison. The next year, Vladutsa must go to school.
Grandmother and granddaughter live on the outskirts of the village on a steep hill, which is very difficult to climb even for a healthy person, especially in bad weather. The house in which they live is not assured with water and gas. Vladutsa's grandmother brings water from the nearest well, which is very difficult for her.
The house is heated and the meals are prepared using firewood, which is also very difficult to carry by doamnaVasilitsa from a remote location.
Due to its age and condition, Vasilitsa Bivol often leaves the home with great difficulty, even though she has to take her granddaughter to the kindergartenevery day. In addition to the legs problems, Vasilitsa has a vascular related disease in her legs and arms, which further exacerbates her condition.
According to doamna Vasilitsa, the last time the representatives of the social services visited her and her granddaughter in 2013.
Granddaughter Vladutsa is well developed for her age. She is a very pretty and optimistic girl. According to her grandmother, Vladutsa is successfully engaged in the preparatory group of the kindergarten and is preparing for school. She prefers to engage in reading and writing activities, rather than play with dolls. The girl looks very neat and well-groomed.
The elderly, ill woman and her granddaughter are completely devoid of any assistance from outside and are extremely low on financial means.
According to Vasilitsa Bivol, her pension is 800 lei.
She and her granddaughter are in a desperate situation and are ready to accept any kind of assistance, especially firewood and food.
Provided assistance:
On March 15, 2016 the public organization «Caritate.md» offered Vasilitsa Bivol and her granddaughter the following assistance:
From Chisinau to the village of Costesti (home of Bivol family) there were delivered:
3 square meters of chopped firewood;
Food and household chemical goods.
Thus, grandmother Vasilitsa Bivol and her granddaughter Vladutsa received the first assistance.