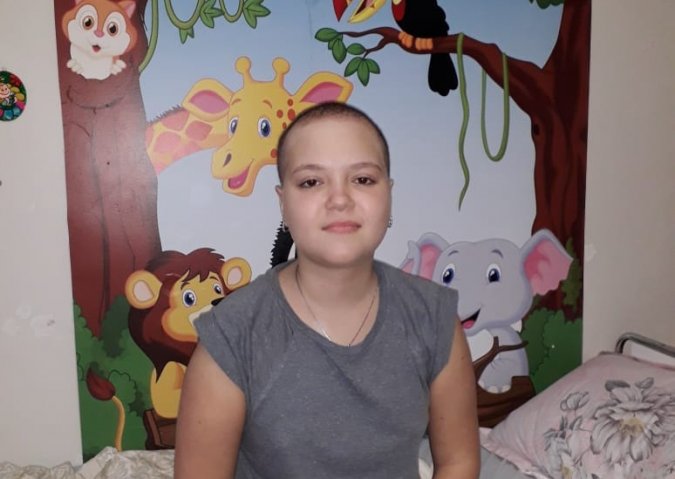 From the heart to Elena Dotu
40,342USD donated from 89,000 USD
144
in how many days was collected
From the heart to Elena Dotu
Last Name: Dotu
• Surname: Elena
• Age: 15
• Diagnosis: lymphoblastic leukemia
• Amount required for transplantation and treatment: $ 89,000
• Treatment: Turkey

A message from mother:

Elena Dotu, born on July 29, 2003, fell ill for the first time in September 2014 and was diagnosed with acute lymphoblastic leukemia. She was treated at high risk, took high-dose chemotherapy and was assigned cranial radiation. In July 2015 we were discharged. Unfortunately, the remission did not last long. Three years later, Elena's disease relapsed. We underwent two more courses of chemotherapy, which were very hard on her as she reacted negatively to drugs (toxicoderma). Remission was never achieved. If the first time the chemotherapy helped us, now our only hope is a bone marrow transplant abroad. There are months ahead of treatment and bone marrow transplant. The sum for the treatment provided by the clinic is to high for us. This is why we ask people of goodwill to help us save our little girl, which is very sweet and smart. Everyday we pray our Lord to help us save our daughter.

God bless you!
UPDATE, 3 January 2019
:
Ziua mult asteptata pentru Lenuta Dotu. Fetita care ne-a cucerit pe toti, astazi Lenutei i se va face transplantul si toti ii tinem pumnii si ne rugam pentru ea. Stiti cine va fi donatorul? Faceti cunostinta, Maria, surioara mai mica a Lenutei cea care ii va oferi a doua sansa la viata. Doua surori ca doua picaturi ,o legatura speciala intre ele. Stiu pentru ca am si eu sora si stiu ce inseamna sa ai sangele tau aproape...si mi-as da si viata pentru ea oricand. Doamne, emotiile sunt mari, mama nici nu poate sa isi mai gaseasca locul. Maria are o singura dorinta- Sa-si salveze sora... Ca dupa ani si ani, ele sa fie asa mereu, unite, una pentru alta ... iar inainte de a fi asezata alaturi de surioara ei, ne-a rugat foarte mult, prin mamica ei, sa ne transmita ca ea a vazut ce inseamna cand oamenii sunt langa ei si ne roaga sa nu ii lasam pentru ca acum ca niciodata sustinerea noastra e vitala. Dragii nostri, avem doua surori cu aceleasi lacrimi de durere, iar cea mica ne implora pur si simplu sa o ajutam sa isi salveze surioara, fiindca puterea de a invinge vine de la noi, oameni... pic cu pic facem viata pentru Lenuta, putin cu putin facem ca sa mai intalnim un Erou la aeroport (abia astept sa o vedem pe Lenuta acasa)... Haideti sa incercam sa fim multi multi asa cum si-a dorit Lenuta in ajun de Anul Nou. O fetita bravuta ne roaga sa fim pentru ea o mare familie. Ce ziceti putem sa ne mai unim inca odata? Hiadeti, repetat sa salvam iinca o viata.